Youth and Their Social Impact – UNESCO NGO Forum 2017
October 21, 2017

10 things you should do when a new NJR is elected
October 16, 2018
We're very glad to announce that

IJB

Thinks

is
back

!

For those who don't know it, IJB Thinks is a project that was created in 2006, which consists in an online publication with contributions from CISVers around the world. From time to time, a new theme is released and people are invited to share their thoughts about it. Everyone is welcome to contribute! If you wanna read more about IJB Thinks, click here.

So, you might be wondering what is the theme of the next edition…

For IJB Thinks #24, we want to know what do you think about Generations!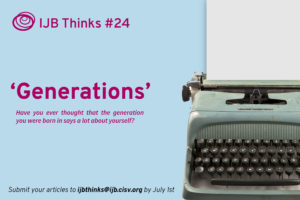 A generation typically refers to a group of people born within a certain period of time whose shared age and experiences shape a distinct worldview. Do the terms 'Baby Boomers', 'Generation X', 'Millennials' or 'Generation Z' ring a bell? These are the generations born since the end of the World War II and each of them is marked by a set of characteristics that strive their differences.
Do you feel identified with your generation?
How do generations perceive each other?
How is this reflected at CISV?
How is our work as volunteers affected by the generation we belong to?
These are some of the many questions that can be asked about "Generations" and we are excited to know what you think!
Please send your article to ijbthinks@ijb.cisv.org until July 1st.
To get you in the mood, we've created this playlist with songs from different generations! We'll be also sharing some resources on our Facebook Page throughout the following weeks, stay tuned!
Do you have any questions or comments? Feel free to reach us!
Beijinhos from Vitória and Paris,
Floripale